Moving Ustyled headquarters to Washington, D.C from Los Angeles last year was as much a move for awareness as it was for strategic growth.
Being in LA, the style of dress is quite different than other parts of the country. So is the weather! We have clients across the country that we send Boutique Boxes to each month whose needs vary quite broadly in terms of weather, career and environment (not to mention body, age and style!).
Add to that challenge the proliferation of Business Casual in professional environments. What does that even mean??
Business Casual is a step below a suit, but a step above jeans and a tee-shirt.
It's that word 'casual' that makes it confusing and a bit more open for interpretation, but please don't let it fool you.
While Business Casual can have broad interpretations across industries, environments and cities, there are a few tenets you can follow to be sure you're always showing up honoring your Style Power in the situation.
>> It's always better to be Overdressed vs. Underdressed
Anywhere outside of LA or Florida, at least here in the US, I would avoid jeans in most business casual situations.
Would you rather stand out for owning your Style Power in a stunning outfit or for being a bit too casual?
Which do you think has a more positive impression??
The key is that you don't have to wear a jacket, but you can. These days, I'm much more of a fan of mixing jackets & pants that coordinate over wearing a traditional suit. It's more feminine, more fun and allows for more mixing & matching within your wardrobe.
What does this look like?
It can be a blouse & skirt, a dress without a jacket or pants and a novelty jacket.
In the more casual than business casual settings, you can go for the dressed up denim (preferably a print, dark, colored or white) – add a silk blouse or a jacket with your favorite heels. Still, kick it up a notch because that will always make you feel more confident, which in itself makes you stand out!
>> Focus on Fit
This is included in almost every article we publish because that is how important this is – fit is EVERYTHING.
Fit is the reason why I'm so against people shopping on sale – usually they buy something because of the designer name even though it pulls or tugs or bunches. And then you're fussing with what you're wearing. Or, worse yet, you keep trying it on and throwing it on the floor because it's just not quite right, so it's just sitting in your closet taking up space and creating frustration.
What does it mean to focus on fit?
You can see your shape (mind and/or create your waist!)
There is no bunching or bulging … especially with pants at the thighs and below your bottom
NO PLEATS (they're as bad as wire hangers!)
You probably have to go down a size – this is the #1 fit fix that we make with our clients
Make sure your sleeves hit at the base of your wrists (unless it's a ¾ sleeve) – especially with jackets
Show a bit of collarbone, but you should definitely be mindful of cleavage (I'm all about the feminine figure, but you don't want to accidentally distract what the importance of your words)
By the way, focusing on fit can actually make you look your slimmest.
>> Ultimately, it still starts with YOU
It's incredibly important that you are mindful of the occasion and what's appropriate for this specific environment (business casual in a work setting is different than in a networking setting). But, this is also about R-E-S-P-E-C-T. For those you're meeting with but definitely for yourself as well.
In fact, we're passionate about STYLE at Ustyled because of all the positive impacts it can have on your career … because of how it impacts how you FEEL and thus, your confidence.
So, regardless of how conservative or creative the environment, you have to honor YOUR style. We do help our clients with clarity on what to wear for specific events so they can focus on their goals at that event with complete confidence that they're showing up in powerful and present and ready to connect!
What does this mean for you?
In a conservative environment, you can play with the details and a bold pop of color (it can even be your lipstick!). Your dress may be simple, but the accent belt//shoe//bag//necklace kick it up a notch and make you stand out!
For instance, I went to an event a couple of months ago that was a cocktail reception after the opening session of a conference for women entrepreneurs.
What do you wear to an event that is business casual AND cocktail???
In conversation with women at the event, this was a big conundrum for them!
I went for an 'outfit mullet' as I called it – business on top, party on bottom.
These pants…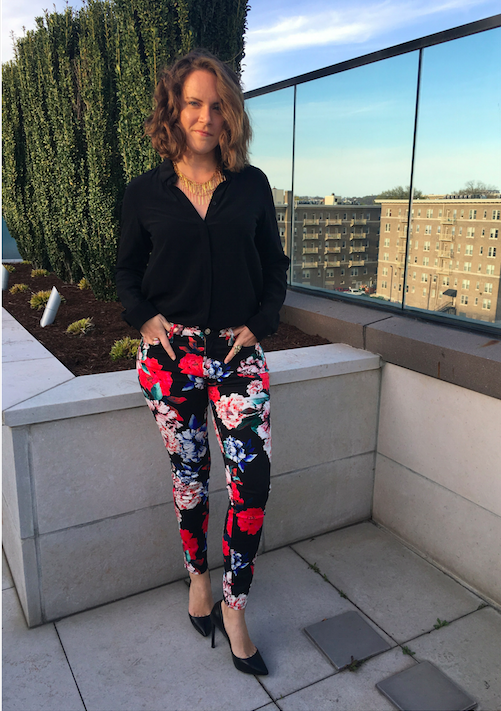 mixed with this jacket…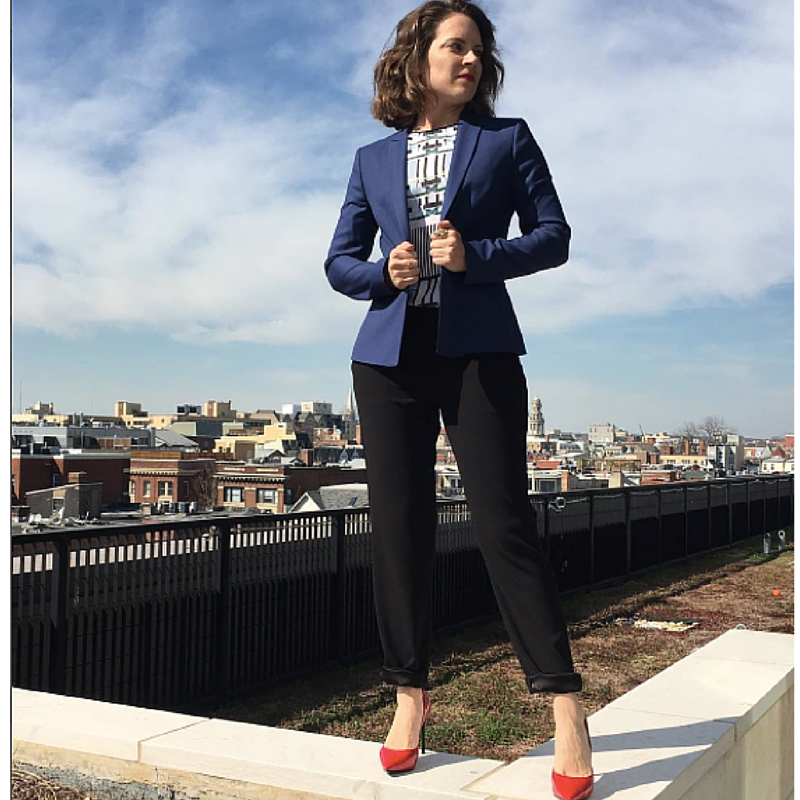 … created something fun, but professional and definitely made me stand out (as I should as CEO of a Style company!).
ULTIMATELY, it's about putting on clothes. How you configure it is up to you… that is the beauty of fashion (or the hatred).
If the frustration of 'what to wear' has finally taken it's toll on you and you're ready to have clarity in your style and confidence while shopping, Ustyled's 30 Days to Define your Style Program can give you the tools and guidance you need to evolve your style and wardrobe as your career evolves.