Here at Ustyled I'm on a mission to redefine what it means to "Dress for Success" as a professional woman.
It's part inspiration, part action and part finding you the best quality for value in the designers that we support.
It's also about showing up, standing out and having the courage to be 100% Authentically YOU.
No more hiding behind boxy, baggy suits. No more boring black (unless you LOVE it!). No more 'shoulding' all over yourself!
It's not about the clothes. The clothes are a tool. It's about your CONFIDENCE, making it easy and making it FUN!
Hence, the Style Power Success trunk show we hosted here in DC and virtually everywhere! And why I wanted to partner with and support Lizz Choi and Ha Do, the founders of Onnix Bags.  The bags are gorgeous and the design is thoughtful in how it supports YOU as a modern professional woman.
PLUS, the price point (as you're essentially buying 2 bags for the price of 1) is amazing for the quality. As we look forward to 2017, we'll be sharing more designer resources as well as more inspiring interviews.
'Onni' is Finnish for Luck and Happiness — So, is it time to #CreateYourOnni?
Lizz & Ha share a bit of their story and WHY:

I share a bit of their versatility and gorgeousness:

I took this bag out for the day … perfection for day to night!
Just like that – the tote becomes a clutch!
The women at our Trunk Show ooo'd and ahhhh'd over the bags and the attention to detail as well.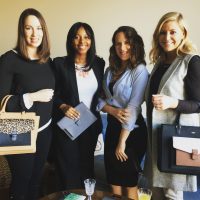 They provided the perfect accessory to our conversation with Clare Bresnahan, Executive Director of She Should Run, Melissa Richmond, VP of Running Start and Edda Coleman, Co-Founder and Chief Public Affairs Officer for All in Together.
We talk a bit about the important work that these three #BossLadies do with their organizations and dig deep into what it holds women back from rising up as leaders.
It's an inspiring dialogue that I hope you'll watch and share!
(Hint: You'll want to watch until the end for a bonus gift from Lizz & Ha to YOU!)
If you have any Q's for the bags … don't hesitate to reach out to stylist@catherinecassidy.co and we'll get back to you! We want you to confidently take advantage of this Give-Get that Onnix is offering you!
Finally,  what are your key takeaways from the conversation?
Look forward to hearing from you!